Mercedes-Benz Electric Vehicle Lineup

Mercedes-Benz is known for pushing the boundaries of what's possible from the automobile. Now that the all-electric revolution is upon us, Mercedes-Benz embraces the clear benefits of electrification including efficiency and sustainability. These core principles have shaped the creation of the Mercedes-Benz all-electric lineup — the electric future of Mercedes-Benz vehicles. Combining the brand's renowned reputation for peerless design and luxury with progressive technology and innovation, Mercedes-Benz all-electric vehicles mark the start of an entirely new era.
Meet the Mercedes-Benz All-Electric Vehicle Lineup
EQS
Unlike any electric vehicle you've ever seen, the EQS is the flagship of the Mercedes-Benz all-electric fleet. Infused with S-Class levels of comfort and refinement, the premium cabin of the EQS is infused with groundbreaking technology to inspire your daily drive. Examples include the remarkable MBUX Hyperscreen, a 56-inch showcase of high-tech glass that serves as your centralized location for all multimedia. Seamless and responsive, the permanently synchronous electric motor of the EQS delivers instantaneous acceleration further enhanced by a self-leveling AIRMATIC® air suspension.
EQB
Introducing the very first all-electric seven-seater SUV from Mercedes-Benz. The dynamic EQB offers limitless possibilities with its electrified powertrain and innovative charging solutions ranging from standard AC to DC fast-Charging. Standard Navigation with Electric Intelligence calculates the fastest route to your destination while factoring in required charging stops, eliminating any range anxiety concerns. Inside the cabin, you'll find yourself immersed in connected tech features and impeccable comfort amenities designed to ease stress and tension. Intelligent drive systems including predictive route guidance and Active Brake Assist help add an additional layer of safety and protection against the unknown inside the EQB.
EQE
A fresh interpretation of the modern executive sedan, the EQE embodies sophistication and athleticism while boasting an electrified powertrain. Its purposeful exterior design contributes to its athletic handling capabilities and exceptional maneuverability, further enhanced by its clever positioning of its lithium-ion battery. Technological highlights of the EQE include Navigation with Electric Intelligence and the proven MBUX (Mercedes-Benz User Experience) infotainment system. Its specialized ENERGIZING AIR CONTROL system helps to improve air quality while simultaneously eliminating harmful particles and bacteria. Included as standard, Mercedes me Charge lets you access over 60,000 public charging stations in the USA and plan your route accordingly.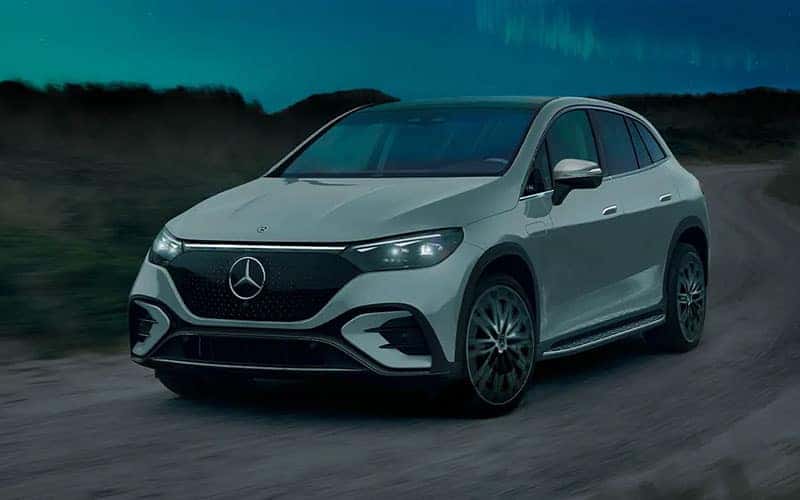 EQE SUV
Comfortable, capable, and cutting-edge are only three adjectives that highlight the strengths of the bold EQE SUV. Precision-crafted to make a statement, this sophisticated all-electric luxury SUV sets an entirely new standard for the industry. Proving that innovation remained at the forefront of the EQE SUV design, buyers will enjoy premium amenities like available climate-controlled massaging front seats, Zero Layer display menu structure for the MBUX infotainment system, "Hey, Mercedes" multilingual digital assistant, and standard 3D Surround Sound with Dolby Atmos®. Its advanced electrified powertrain blends remarkable efficiency with jaw-dropping performance and capability, all of which combine to deliver an unparalleled experience behind the wheel of the EQE SUV.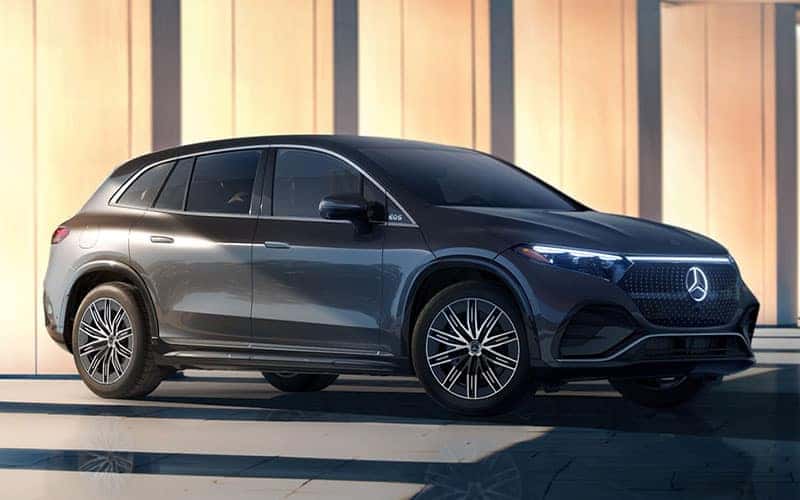 EQS SUV
The flagship of the Mercedes-Benz all-electric SUV line, the EQS SUV takes the luxury of the EQS sedan and adds an off-road mode and an optional third row of seats. You have the same option of the MBUX Hyperscreen, and the standard air suspension can be raised for off-road use. Enjoy a large, airy cabin filled with natural light from the panoramic sunroof. There is an electric range of up to 305 miles and a choice of 355 horsepower or 536 horsepower.
Mercedes-Benz All-Electric Technologies
Lithium-Ion Batteries
Located low within the vehicle's underbody, Mercedes-Benz all-electric vehicles benefit from advanced lithium-ion batteries. These batteries have set new standards for capacity, charging capabilities, and performance.
Synchronous Motors
Recognized for their compact size, remarkable efficiency, and ability to deliver high levels of torque at low speeds — every Mercedes-Benz all-electric model is powered by an advanced synchronous motor.
Smart Charging Capabilities
Whether you're on the go or in the comfort of your home or office, your Mercedes-Benz all-electric vehicle offers plenty of solutions for staying charged up for your next adventure. Use the Mercedes me Connect app on your phone or the MBUX system inside your vehicle to locate, schedule, and even initiate payment at nearly 60,000 public charging stations nationwide.
Electric Vehicles – Frequently Asked Questions
Note: Click on heading to expand or collapse panels.
Yes! In many cases, they actually offer superior torque and acceleration compared to their gasoline-powered counterparts. Due to their electric powertrains, they can respond in an instant without the lag of a typical internal combustion engine. They're also noticeably quieter and smoother to drive. Finally, you can't ignore their remarkable efficiency and significant savings you'll enjoy at the pump.
The ever-expanding network of charging stations means that you now have more options than ever before. At home, you can consider installing a dedicated Level 2 charging station so you can enjoy the convenience of waking up to a full charge each morning. If you live in an apartment or work in an office building, you can consider asking the building management to add a charging station for tenants or employees to access.
Included with your Mercedes-Benz all-electric vehicle is access to the groundbreaking Mercedes me Connect app. This app helps you easily locate nearby charging stations, plan your route or trip accordingly, and even initiate payment at compatible ChargePoint charging locations.
The short answer is "it depends" Since each model is different, charging capabilities and times will vary. As an example, the EQS is able to go from 10% to 80% charged in as little as 31 minutes using a DC fast charging station (maximum 200 kW). Using a Level 2 charger at your home or office will result in slower times. For exact charging times for your Mercedes-Benz all-electric vehicle of interest, simply ask our team of experts at Mercedes-Benz of Easton for additional information.
**Images may contain Optional equipment.