Mercedes-Benz Set to Dazzle at 2015 Detroit Auto Show
Mercedes-Benz is ready to dazzle the automotive world once again with the debut of ground-breaking new vehicles at the 2015 North American International Auto Show (NAIAS) Jan. 12-25 in Detroit. Thousands of journalists from around the world will join auto industry professionals and the general public at what has become the world's most prestigious showcase of automotive technology.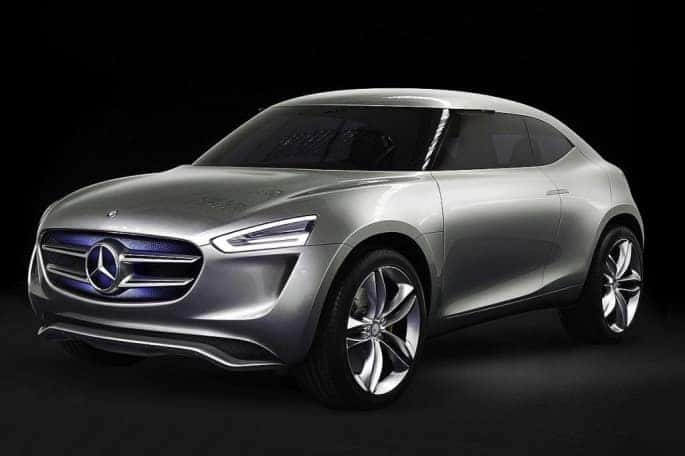 History. Tradition. Innovation.
Since the very beginning of the automotive industry more than a century ago, Mercedes-Benz has consistently led the way. From performance, technology, and fuel efficiency to daring design and driver safety, the three-pointed star has withstood the test of time and has never shined brighter than today. It has come to symbolize the highest achievements of automotive design and engineering excellence. Mercedes-Benz is, quite simply, the gold standard to which all others aspire.
Driving the Automotive Future
An excellent example of Mercedes-Benz's forward-thinking, which is emblematic of the many new technologies the luxury automaker will present at this year's auto show, is the concept of autonomous driving. The idea of a car driving without human intervention is in itself a notion that seemingly belongs in the pages of a science-fiction novel. But in fact, Mercedes engineers and researchers are actively pursuing the concept of "autonomous mobility" with the S500 Intelligent Drive and "Future Truck 2025" concept vehicles. Mercedes is the first global automaker to successfully demonstrate the feasibility of autonomous driving in both city and highway driving environments with technology that actually exists today. Not only is this concept revolutionary in terms of technology and safety, it also redefines interior space from a traditional forward-facing layout to a radically reimagined interior that allows passengers to face each other in a lounge-like environment while the vehicle safely delivers them to their destination.
Since the introduction of the very first automobile in the 1880s, Mercedes-Benz has always been at the forefront of shattering conventional boundaries with visionary thinking and bold design. Once again, Mercedes rewrites the rulebook with its stunning, imaginative, and futuristic "Future Truck 2025" concept vehicle. This striking tour de force of automotive design incorporates an astounding array of advanced features, dramatic lighting, and flowing shapes which epitomize the automaker's "Sensual Purity" design philosophy.
This futuristic commercial vehicle's most arresting feature is its breakthrough lighting which completely eliminates traditional headlamps, replacing them with arrays of hundreds of LEDs covering the entire front fascia. The color of the lighting array changes according to whether the vehicle is being driven manually or autonomously. Small cameras replace traditional mirrors, while its aero shape significantly reduces drag and improves fuel efficiency. The truck's cabin is more like an office than the inside of a car. A removable tablet PC allows the driver to perform a variety of tasks and the interior space creates a modern and comfortable "home away from home" for those long-haul, cross-country trips. A working prototype is currently being tested on German roadways.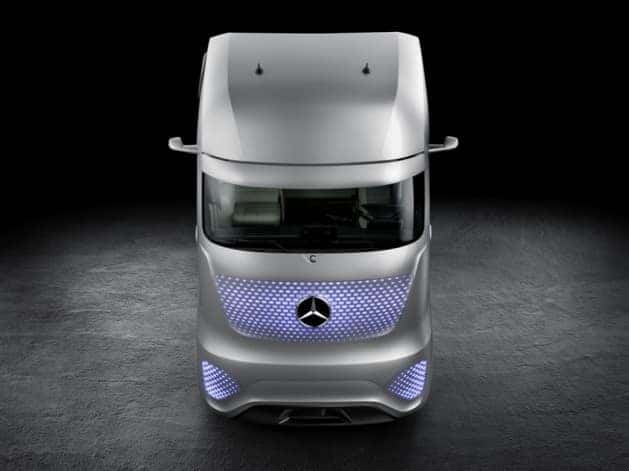 A Passion to Outperform
The all-new 2016 Mercedes-AMG GT S two-door sports coupe is yet another example of how the automaker's performance division has taken the passion and spirit of the race track and translated into the metal sinew of flesh-and-blood driving machines. Combining Old-World hand craftsmanship with the latest in cutting-edge engineering, the AMG GT-S embodies a fresh new "aviation design" theme with its breathtaking "wing-like" dash, large round air vents, and dominating center console.
The fluid, beautiful, aggressive, and aerodynamic exterior of AMG GT S only begins to hint at the thundering beast that propels this luxury super sports coupe from 0-60 in approximately 3.7 seconds, with a top speed of 193 mph. Its heart and soul is a hand-built 4.0 liter bi-turbo V8 engine. It's the world's first sports car engine that actually has the turbos inside the "V" of the engine. It also features dry sump lubrication.
Making Headlines with Every Turn of the Wheel
The 2015 North American International Auto Show, Jan. 12-25 will also see the debut of such groundbreaking new vehicles as the first-ever 2015 GLE-Class coupe, the exhilarating 2015 Mercedes-AMG C63 four-door, the magnificent 2015 V-12 Mercedes-Maybach S600, the innovative 2015 S-Class Plug-in Hybrid, the 2015 S65 AMG Coupe, the sensual 2015 CLA Shooting Brake, and the unique and the visionary "G-Code Concept Coupe SUV," – a collaboration between Mercedes' new Product Engineering Centre in Bejing and the company's main design studio in Sindelfingen, Germany.
Unparalleled luxury. Superior sophistication. Pulse-quickening performance. Engineering innovation. Brilliant design. One would expect nothing less from the company that invented the automobile, where it's: "The best…or nothing."
Experience the Uncompromising Quality That Is Mercedes-Benz
At Mercedes-Benz of Easton, you'll experience the ultimate in customer service, with a personalized sales experience that is second-to-none. We offer a complete range of Mercedes-Benz automobiles to choose from. Like the all-new, best-in-class 2015 Mercedes-Benz C-Class four-door sedans. Choose the Sport Package for a driving experience that is both sophisticated and exhilarating. Opt for the powerful and luxurious E-Class, offering the utmost in interior appointments, safety features, and technological advancements. Kick things up a notch with the astonishingly beautiful, agile, and muscular S-Class. Or you can accelerate your driving experience to an entirely new level of excitement in the phenomenal 2015 Mercedes-Benz SLS AMG which redefines the concept of what a luxury sports car should be.
The Pinnacle of Automotive Achievement
No matter which Mercedes-Benz you select, rest assured that you will be driving a car that is an expression of the very pinnacle of automotive style, form, function, technology, and engineering prowess. We invite you to test drive one of our many 2015 Mercedes-Benz models today at Mercedes-Benz of Easton. We're conveniently located at 4300 Morse Crossing, Columbus, OH 43219. To contact our Sales Department, please call 888-530-5742. For our Service Department, call 888-722-5428.

Sources:
http://www.mbusa.com/mercedes/events/autoshow
http://www.mercedes-benz.com/en/mercedes-benz/innovation/tecday-sunnyvale-autonomous-mobility/
http://www.mercedes-benz.com/en/mercedes-benz/design/design-of-the-future-the-future-truck-2025/
http://www.mercedes-benz.com/en/mercedes-benz/design/design-of-the-future-the-future-truck-2025/