Mercedes-AMG® History & Model Overview

Unparalleled luxury, striking design, and precision-crafted performance. Each are key elements of the Mercedes-AMG® philosophy and are forged into the DNA of every vehicle that leaves the artisan workshops of Affalterbach, Germany. With 50 years of powerful conviction and heritage, the courage and passion of founders Hans Werner Aufrecht and Erhard Melcher characterize the spirit of AMG®.
Two Men, Three Letters
Working tirelessly in an effort to sustain and optimize the performance of Mercedes-Benz vehicles, Hans Werner Aufrecht and Erhard Melcher worked as engineers in the Development Department at Daimler-Benz. After earning an established reputation for success in motorsports, the vision of AMG® was to offer road vehicles modeled after successful racing cars earning victories across Europe. In 1967, they founded the "Aufrecht Melcher Großaspach Ingenieurbüro, Konstruktion und Versuch zur Entwicklung von Rennmotoren" ("Aufrecht Melcher Großaspach engineering firm, design and testing for the development of racing engines").
At the 1971 24 Hours of Spa, the AMG® Mercedes-Benz 300 SEL 6.8 was the champion in its class along with a second-place overall finish. This caused a sensation that spread the AMG® name across the globe. Groundbreaking technologies pioneered at the purpose-built workshop in Affalterbach allowed AMG® to become a world-class engine manufacturer by 1984.
Joining the Family
Following the flood of success, Daimler-Benz AG and AMG® signed a contract that agreed on a partnership, representing the next chapter in the AMG® legacy. Once AMG® products could be sold and maintained through the Mercedes-Benz worldwide network of company-owned sales and service outlets and dealerships, a tremendous boost in demand and customer acceptance soon followed.
As of today, Mercedes-AMG® GmbH currently employs a workforce of more than 1500 at its plant in Affalterbach. The current Mercedes-AMG® model range is not only larger and more varied than ever before, but it is also designed to cater to the most diverse desires and requirements of the customer.
Mercedes-AMG® Video
One Man, One Engine Philosophy
AMG® has embraced a single philosophy from the very beginning: One Man — One Engine. As a result, a single master mechanic is responsible for handcrafting every AMG® engine. From a 4-cylinder through a V6 and V8 to a V12 — every engine stands for high agility and dynamic response, combined with superior efficiency and superlative performance. Since every AMG® is also a Mercedes-Benz, acoustic comfort and ride quality – as well as endurance and long-term performance – must always meet the most exacting standards.
Symphonic Sound and Dynamic Handling
Every Mercedes-AMG® features an exhaust system with a powerful and robust rumble, giving each model its very own distinctive sound statement. As a result, every driving situation is supported by the proper sound character. Mercedes-AMG® applies this principle to transform power into driving dynamics, helping to control power and unleash the passion. Every twist and turn instills an invigorating sense of control.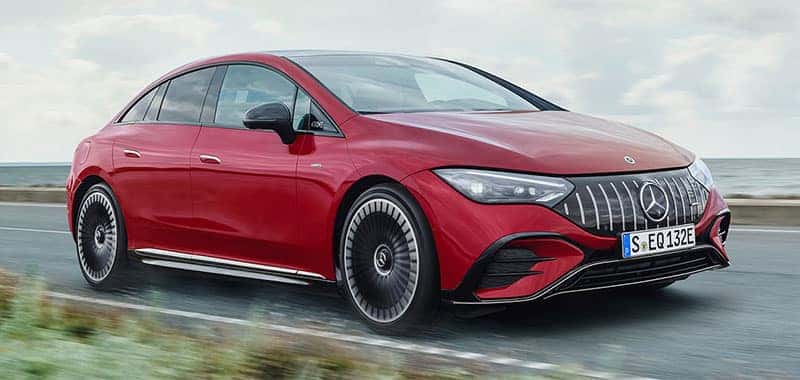 All-Electric Exhilaration
Invigorating and emotional like the rest of the Mercedes-AMG® lineup, the AMG® EQE Sedan blends E-Class sophistication with electric intelligence and AMG® power. The same thrilling performance that's become synonymous with AMG® is now available in all-electric form, delivering instantaneous acceleration and remarkable handling characteristics. More EV variants from Mercedes-AMG® are slated to debut in the coming years.
Performance Has Many Faces – Mercedes-AMG® Models
Mercedes-Benz of Easton is your destination for the latest AMG® performance vehicles. If you're looking for a new or pre-owned Mercedes-Benz AMG® model, you'll find it among our extensive AMG® inventory. Whether it's the iconic AMG® C 63 or the capable AMG® GLE 63 — you're sure to find the ride of your life at Mercedes-Benz of Easton.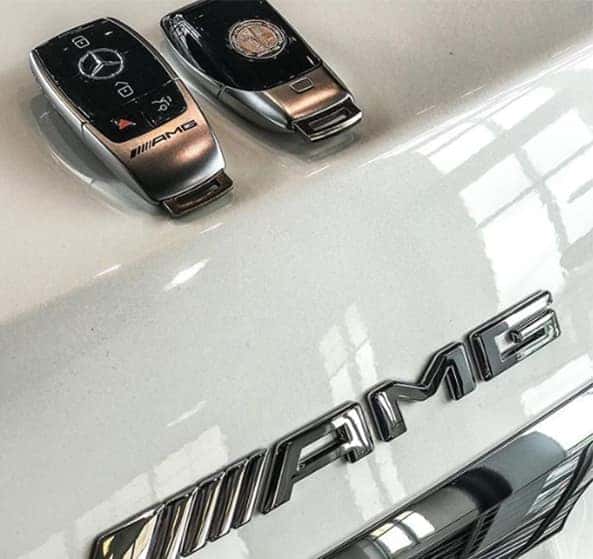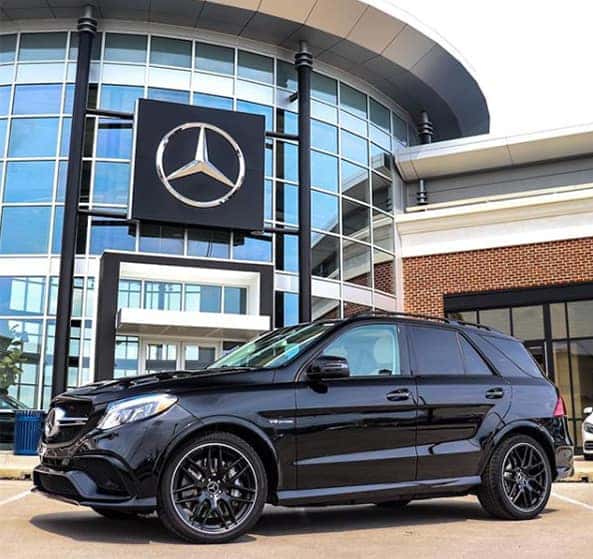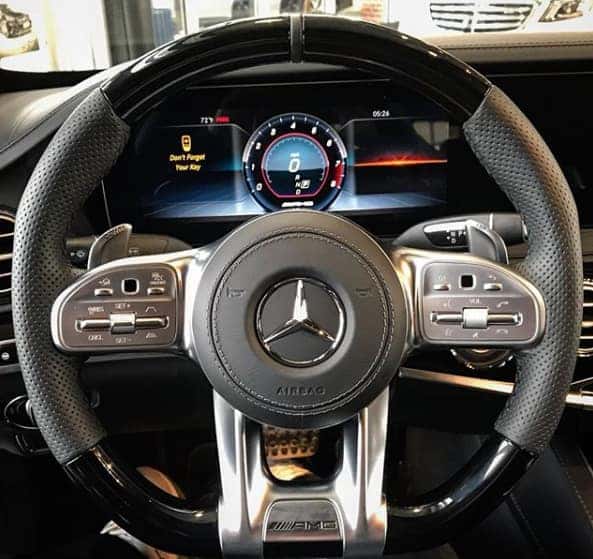 ---
AMG® E-Class Sedan
AMG® E 53 Sedan – Starting at $75,000 MSRP*
AMG® EQS Sedan
AMG® EQS Sedan – Starting at $147,500 MSRP*
AMG® CLA Coupe
AMG® CLA 35 Coupe – Starting at $47,900 MSRP*
AMG® CLA 45 Coupe – Starting at $55,900 MSRP*
AMG® C-Class Coupe
AMG® C 43 Coupe – Starting at $60,500 MSRP*
AMG® E-Class Coupe
AMG® E 53 Coupe – Starting at $77,600 MSRP*
AMG® GT 4-Door Coupe
AMG® GT 43 4-Door Coupe – Starting at $92,500 MSRP*
AMG® GT 53 4-Door Coupe – Starting at $102,600 MSRP*
AMG® GLA SUV
AMG® GLA 35 SUV – Starting at $47,950 MSRP*
AMG® GLA 45 SUV – Starting at $55,400 MSRP*
AMG® GLB SUV
AMG® GLB 35 SUV – Starting at $49,950 MSRP*
AMG® GLC SUV
AMG® GLC 43 SUV – Starting at $59,900 MSRP*
AMG® GLC Coupe
AMG® GLC 43 Coupe – Starting at $66,500 MSRP*
AMG® GLE SUV
AMG® GLE 53 4MATIC®+ SUV – Starting at $74,150 MSRP*
AMG® GLE 63 4MATIC®+ SUV – Starting at $116,850 MSRP*
AMG® GLE Coupe
AMG® GLE 53 Coupe – Starting at $78,450 MSRP*
AMG® GLE 63 S Coupe – Starting at $117,850 MSRP*
AMG® GLS SUV
AMG® GLS 63 SUV – Starting at $135,400 MSRP*
AMG® G-Class SUV
AMG® G 63 SUV – Starting at $156,450 MSRP*
AMG® C-Class Cabriolet
AMG® C 43 Cabriolet – Starting at $67,000 MSRP*
AMG® E-Class Cabriolet
AMG® E 53 Cabriolet – Starting at $84,350 MSRP*
---