How Mercedes-Benz Dominated The 2017 Detroit Auto Show
When you design and engineer some of the world's most stunning and technologically advanced vehicles, you expect to steal the show. And that's exactly what Mercedes-Benz did during this year's 2017 North American International Auto Show (NAIAS) in Detroit.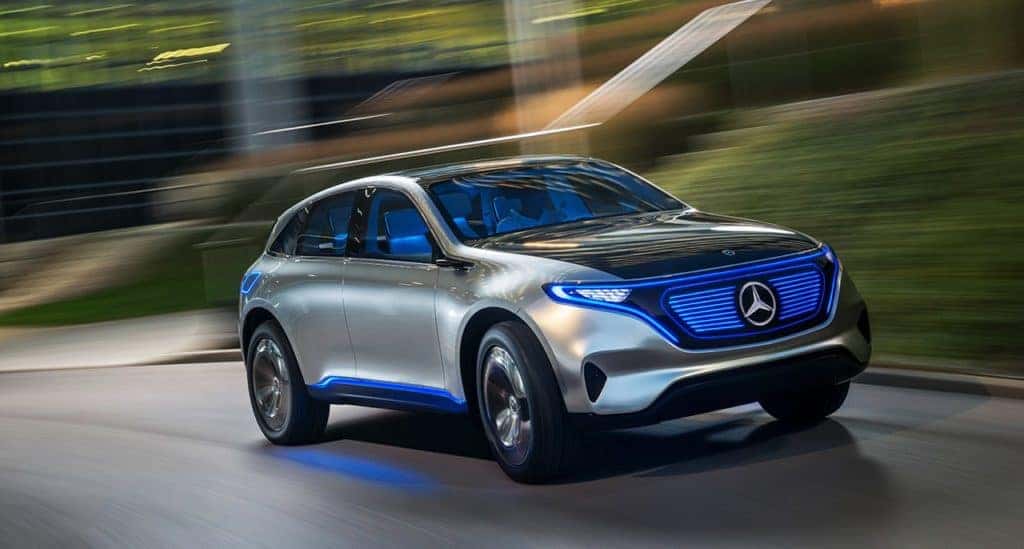 Raising The World's "EQ"
Calling it "The new brand for electric mobility" the "Concept EQ" is more than just a new concept or one-off show-stopper, but rather ushers in an entirely new brand for the German automaker. All of the company's existing electric infrastructure and technology will be bundled under the EQ banner.
Designed as a sleek and sporty SUV coupe, Concept EQ features a dramatic new "electro-look" and two powerful electric motors that can generate up to 300 kW of power with their ingenious scalable battery components. This advanced technology promises up to 300 miles of range. The EQ's futuristic interior is also a showcase for some of the many mind-blowing new automotive technologies that Mercedes-Benz has in the works. According to Dr. Dieter Zetsche, CEO of Daimler AG, "The mobility of the future at Mercedes-Benz will stand on four pillars: Connected, Autonomous, Shared, and Electric" (CASE).
AMG GT C Coupe Edition 50.
The other big news from the show was the debut of a new family super-sporty AMG GT models, including the AMG GT, AMG GT Roadster, AMG GT S, AMG GT C and hard-core AMG GT R. A new AMG GT 50 Edition was also announced to mark AMG's 50th Anniversary.
Tobias Moers, chairman of the board of Mercedes-AMG, stated "With the AMG GT C Coupe, we are now expanding our portfolio of sports cars to six models plus the AMG GT3 customer sport racing car. In fewer than three years, the second vehicle to be developed by us entirely in-house has grown into a family, offering a highly dynamic driving experience in a variety of forms."
According to Automobile Magazine, outside of the different body styles, the primary differences between these six new AMG models will come under the hood, with variations of AMG's potent 4.0-liter, twin-turbo V8 delivering from 469 hp and 456 lb.-ft. of torque to upwards of 577 hp and 516 lb.-ft. of twist.
Check out Roadshow's informative walk around of the new 50th Anniversary AMG GT here:
New Mercedes GLA-Class SUV.
The NAIAS also provided an opportunity for the automaker to debut of all-new 2018 Mercedes-Benz GLA-Class. Featuring a more rounded appearance, with a new grille that features two horizontal bars with portholes. Updated LED headlights and fog lights, and an updated sport interior with a new standard 8-inch touchscreen infotainment display. A rear backup camera is now standard and an optional parking assist package will now be offered.
The new GLA-Class will continued to be powered by either a 2.0-liter turbo 4-cylinder making 208 hp and 258 lb.-ft. of torque or Mercedes' tremendous 375-hp turbocharged four. Both engine deliver power through Mercedes' smooth shifting 7-speed, dual-clutch automatic transmission, as well as Mercedes' 4-Matic AWD setup.

We're Spotlighting Extraordinary Savings At Mercedes-Benz Of Easton.
As one of the largest Mercedes-Benz dealerships in Ohio, Mercedes-Benz of Easton is your headquarters for some of the largest selection and best prices on our own show-stopping lineup of new 2017 Mercedes-Benz luxury automobiles for sale near Columbus, OH.
Incredible new 2017 Mercedes-Benz offers near Licking County, OH are taking center stage and you'll applaud how much money you'll save. Let our Mercedes-Benz of Easton Finance Center specialists help you achieve the dream of owning a luxurious and well-equipped new Mercedes-Benz today.
We also proudly offer a prestigious collection of superbly reconditioned and impeccable certified pre-owned Mercedes-Benz cars for sale near Pickerington, OH that could save you thousands compared to the cost of a new car.
Our Mercedes-Benz new car dealership in Ohio serves the communities of Columbus, OH, Dublin, OH, Westerville, OH, and the residents of Delaware County, OH, Licking County, OH, and Fairfield, OH. We're conveniently located at 4300 Morse Crossing, Columbus, OH 43219. Contact us today at 877-346-9330 to schedule your personalized, VIP sales consultation.
Sources:
https://www.mercedes-benz.com/en/mercedes-benz/next/e-mobility/concept-eq-mobility-revisited/
http://www.automobilemag.com/news/amg-debuts-revised-amg-gt-family/
http://naias.com/virtual-auto-show/interactive-image-gallery/
http://www.automobilemag.com/news/2018-mercedes-benz-gla-class-first-look/