Garage & Car Spring Cleaning Tips from The Pros
When it comes to spring cleaning your garage and car, you've heard the usual routines: declutter, organize, wash, and vacuum. But if you're ready to take your spring spruce-up to the next level, you want advice from those in the know. How do professionals clean their cars and garages? Keep reading for advanced tips from the pros, or call our Mercedes-Benz dealership in Columbus for more helpful tips.
Refresh Your Garage Like the Experts
Storage that works: A professional designer begins creating a room by first prioritizing functionality, and garages are no different. As you think about spring cleaning, consider your routines. What items do you use frequently? Which spots are causing you the most trouble? Start by consolidating items and finding the most functional storage possible. Store similar items together and find a storage solution that makes sense (like large open shelves for big items, or small labeled drawers for bulk quantities of small items). Once the space works for your needs, add additional touches to draw the eye away from clutter.
Feature the floor: Professionals know that garage floors are often overlooked. A few additional touches can revitalize the space. Paint it with a high-gloss finish, add a design for visual interest, or add floor tiles to reduce the amount of dirt tracked in.
Go vertical: Think beyond shelving with a slat wall storage system. Get specialized racks and hooks for bikes, kayaks, and sports equipment. This maximizes your floor space and adds personality to an otherwise featureless wall.
Get creative: Borrow unusual storage ideas from others and see things in a new light. For example, turn a filing cabinet on its side, remove the drawers, and use it to hold yard tools or sports equipment. Customize it with a coat of paint for a decorative finish.
Clean Your Car like a Professional Detailer
Air compressor: While you may not have all the detailing tools and techniques the pros have, you can use the tools available to you in new ways. Use your portable air compressor to clean your floor mats and carpets. Blow the dirt toward the center, then use a vacuum to suction it up.
Your air compressor can also be used to clean your car's exhaust and vents. Aim the air at the walls of the ducts behind the grilles; particles collect here and give your car a musty odor. While you're at it, change your air filter at the same time to keep the cabin smelling fresh and clean.
High and dry: Air drying your Mercedes-Benz can leave behind spots and dirt, while towel drying can leave smears. Instead, dry your car like the pros — with a squeegee. A large silicone squeegee removes all the water quickly for a spotless finish.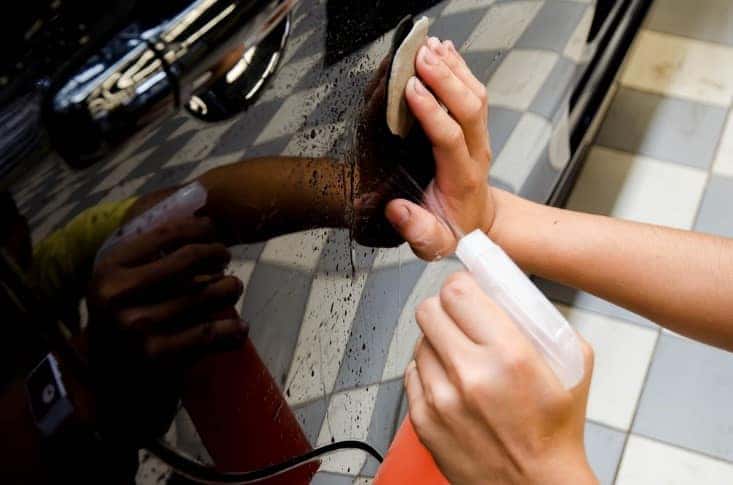 Cleaning clay: Whenever you drive, your car becomes a dartboard for any particles in the air. Your vehicle's clear coat deflects some of it, but can the sharper bits of grit can still accumulate. Washing removes the surface dirt, but to get the embedded dirt, the professionals use cleaning clay. After washing, rub a small block of paint-cleaning clay (lubricated with a liquid cleaner wax) on your car for a more thorough clean.
Wax seasonally, and apply only two coats: While some people try to test whether or not their car needs another layer of wax, the pros know there is no definitive way to tell when the wax has worn down. They stick to a schedule: Wax your car once each season. Finally, the pro detailers usually use two coats of wax; the purpose of the second coat is to cover areas that the first might have missed. Any more than that is likely overkill for your four-wheeled baby.
If your spring cleaning has left you wanting something more—something like a brand-new Mercedes-Benz, for instance—we invite you to pull into Mercedes-Benz of Easton and view all our new 2017 Mercedes-Benz models. In addition to a full inventory of the newest luxury sedans and SUVs, we also offer certified pre-owned cars to help your garage really shine. Contact one of our Mercedes-Benz dealers at (614) 291-2007 to schedule a test drive around Columbus.
Sources & Photos:
http://www.popularmechanics.com/cars/how-to/g99/10-tips-to-clean-and-detail-your-car-like-a-pro/
http://www.hgtv.com/design/decorating/clean-and-organize/15-garage-storage-and-organization-ideas-pictures