2016 Father's Day Capital City Wine Tour
Sure you can take dear old dad out to dinner, give him a pair of slippers, and a card to celebrate Father's Day in Columbus. But how about doing something completely different this year? Ohio is blessed with an abundance of excellent wineries. Many of them are located just a short drive from Columbus on what's called the "Capital City Wine Trail."
Whether your dad is a wine connoisseur, a wine "newbie," or just enjoys a nice glass of wine every now and then, an excursion to one or more of these nearby wineries listed below is sure to be a unique Father's Day treat dad won't soon forget.
But before you head out on your Father's Day Central Ohio wine adventure, we strongly urge you to drink responsibly. Use a designated driver to avoid the possibility of a DUI that would certainly ruin your Father's Day. And we wouldn't want that. Please contact the wineries directly for their hours of operation as some wineries are closed on Sundays.
Blend Of Seven Winery, 1400 Stratford Road, Delaware, OH 43015
This winery started off small with the owners making wines for their own personal use. They opened their winery in 2013 and moved to their larger Stratford Road facility last fall. They offer a unique and personal twist on a variety of wines made from award-winning juices gathered from here in Ohio and around the world. http://www.blendofsevenwinery.com/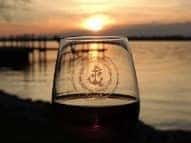 Buckeye Lake Winery, 13750 Rosewood RD, NE, Thornville, OH 43076
Enjoy a Napa Valley experience right here in our own backyard. This picturesque lakeside winery serves a selection of California red wines as well as their own estate-grown white wines. They also offer live entertainment and a delicious Sunday brunch. http://buckeyelakewinery.com/buckeyelakewinery/
Camelot Cellars Winery, 901 Oak St., Columbus, OH 43205
You won't have to travel far to enjoy this hip, urban boutique winery. Each wine is handcrafted from some of the most exceptional juices from some of the world's top vineyards. Why not let dad create his own personal wine in their winemaking lab, complete with a custom label. Open Tuesdays through Saturdays. http://www.camelotcellars.com/
Eldcrhist Winery, 8189 St. Rt. 736, Plain City, OH 43064
Located in a rustic farmhouse near Dublin, Eldchrist offers a selection of wines from 6 grape varieties grown on their own vineyard. http://www.eldchrist.com/Default.aspx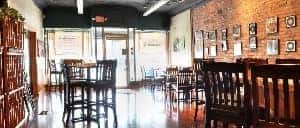 Good Vibes Winery, 2 S State St., Westerville, OH 43018
Feel the vibe of this fun-loving winery's 25 different wines at this trendy urban winery. Or craft your own custom label. http://www.good-vibes-winery.com/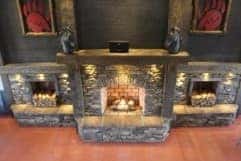 Indian Bear Winery, 3483 McCament Road, Walhonding, OH 43843
Award-winning winemaker Joe Hollabaugh, Jr. crafts an extraordinary selection of 17 Ohio-made wines from 2 acres of grapevines. Enjoy tours of the winery, light food selections, and the beautiful scenery in a relaxed setting. Or stay awhile at nearby Indian Bear Lodge. http://indianbearwinery.com/
Plum Run Winery, 3946 Broadway, Grove City, OH 43213
A 3-acre vineyard produces 16 different varieties of grapes that allow owner Dave Crosby to express his passion for making great wines. Be sure to come out for the 5th Annual Grove City Wine and Arts Festival, Saturday, June 18th. http://www.plumrunwinery.com/index.html
Quail Crossing Cellars, 2899 N. High St., Columbus, OH 43202
There's nothing small about this unique "micro-winery" that offers an array of wines from local vineyards, as well as some grown on site. The winery presents many ongoing and special events. You can order food from nearby Harvest Kitchen & Grill or Gatto's. http://www.quailcrossingcellars.com/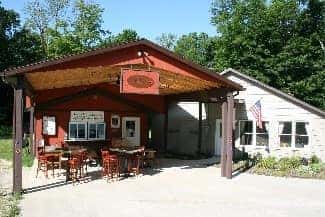 Sand Hollow Winery, 12558 Sand Hollow Road, NE. Heath, OH 43056
Sand Hollow features excellent wines sourced from the best juices found in California, Italy, and Chile. Enjoy wine tastings in a relaxed and tranquil atmosphere. http://sandhollowwine.com/
Shamrock Vineyard, CR 25, Renergt Road, Waldo, OH 43356
This is your opportunity to visit a working vineyard with tours of the wine-making process and a sit-down tasting. The vineyard is pet-friendly. http://shamrockvineyard.com/
Slate Run Vineyard, 1900 Winchester-Southern Road Canal, Winchester, OH 43110
Just a short drive from Columbus, Slate Run features a remarkable selection fine wines crafted by owner/winemaker Keith Pritchard. Enjoy picnicking, tastings, informal tours, a gift shop, and more. http://slaterunwine.com/
Soine Vineyards, 3510 Clark Shaw Road, Powell OH 43065
Escape to the rural countryside and enjoy a European wine experience with varietals sourced from a variety of top European vineyards. Winery and vineyard tours are also available. http://www.soinevineyards.com/Home.html
The Powell Village Winery, 50 S. Liberty St., Suite 174, Powell, OH 43065
Unlike rural wineries, this is an urban wine producer in the spirit of micro-breweries creating numerous top-quality, handcrafted wines with juices sourced from California's Central Valley. They also offer a delicious menu to accompany your wine selections. http://www.powellvillagewinery.com/
The best way to experience Central Ohio's many world-class wineries is to arrive in a world-class Mercedes-Benz from Mercedes-Benz of Easton. May we recommend two superlative choices for your Father's Day Weekend wine-tasting adventure: the remarkable E350 and E400 luxury sports sedans.
Mercedes-Benz E350
The beautiful Mercedes-Benz E350 at Mercedes-Benz of Easton affords an exceptional balance of luxury and performance. The E-Class sets the benchmark for flawless design execution that is the envy of automakers. Frequently copied but never duplicated, the E350 embodies the essence of the Mercedes brand.
The E350's interior offers all that you would expect from Mercedes, including 14-way power front memory seats, durable yet supple MB-Tex upholstery, multicolor ambient lighting, available premium leather seating, and a quiet, refined cabin that redefines the concept of "driver-centric."
Everything about the E350's interior speaks volumes about Mercedes-Benz's legendary attention to detail and technological innovation. The exclusive COMAND (Cockpit Management and Data) system with rotary controller puts an array of entertainment, navigation, and communication capabilities at your fingertips.
Motivating the E350 is remarkable standard 3.5-liter, direct injection V6 gasoline engine with fuel-efficient Eco Start/Stop and a 7-speed automatic transmission that pumps out 302 smooth-revving horsepower. The E350's unique Agility Control® Suspension reacts to driver input and changing road conditions for a composed ride designed for performance driving.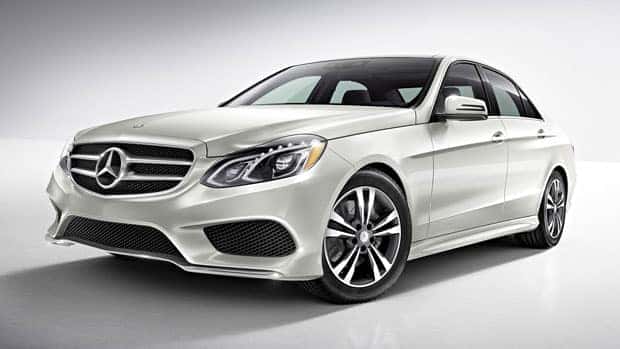 Mercedes-Benz E400
The Mercedes-Benz E400 for sale in Columbus at Mercedes-Benz of Easton takes everything you love about the E350 and kicks things up a notch. Offering the same contemporary, yet classic, styling found on other E-Class sedans, the E400 achieves its own level of distinctive styling and elegant design that embodies the true spirit of Mercedes-Benz engineering and innovation prowess that is daring, powerful, and purposeful.
Differentiating the E400 from its E350 sibling is its stunningly powerful and efficient 329-hp, 3.0-liter direct injection biturbo V6 engine. But that's just the beginning. The interior features premium leather seating, the convenience of split-folding 60/40 rear seats, dual-zone digital automatic climate controls, a power rear-window sunshade, and even an optional household-type 115V power outlet.
The E400 is also outfitted with a Harman/Kardon LOGIC7® Dolby sound system, COMAND system with navigation, Bluetooth® audio streaming, voice control with learning, HD radio receiver, SiriusXM® Traffic and Weather, hands-free Bluetooth interface, and optional Rear-Seat Entertainment System with LCD monitors built into the rear of the front headrests.
Give Dad The Gift Of Mercedes-Benz This Father's Day at Mercedes-Benz of Easton
We invite you to visit our Columbus Mercedes-Benz new car dealership and experience the incomparable E350 and E450 luxury sports sedans for yourself. Now is the time to take advantage of exceptional savings on our entire inventory of new 2016 Mercedes-Benz luxury cars for sale near Columbus, OH.
Discover how easy it is to step up to legendary Mercedes-Benz quality with money-saving Mercedes manufacturer specials. You could also save thousands by selecting one of our many superlative Certified Pre-owned Mercedes-Benz vehicles.
Our Mercedes-Benz showroom is conveniently located at 4300 Morse Crossing Columbus, Ohio 43219, or call us at 888-530-5742 to schedule your personalized VIP sales experience. For Service, please call 888-722-5428.
Happy Father's Day!
Sources:
http://www.ohiowines.org/cgi-bin/winery.pl?xca