Blind Spot Assist Explained

Whether you're traveling on a crowded four-lane interstate highway or a winding mountain road, keeping an eye on your blind spot has always been challenging. Having to strain your neck looking over your shoulder takes your eyes off of what's in front of you and isn't always effective. Fortunately, Mercedes-Benz has developed the groundbreaking Active Blind Spot Assist system to help keep you alert and aware of obstacles in your blind spot. How exactly does this advanced technology function? Let's find out.
Mercedes-Benz Active Blind Spot Assist Video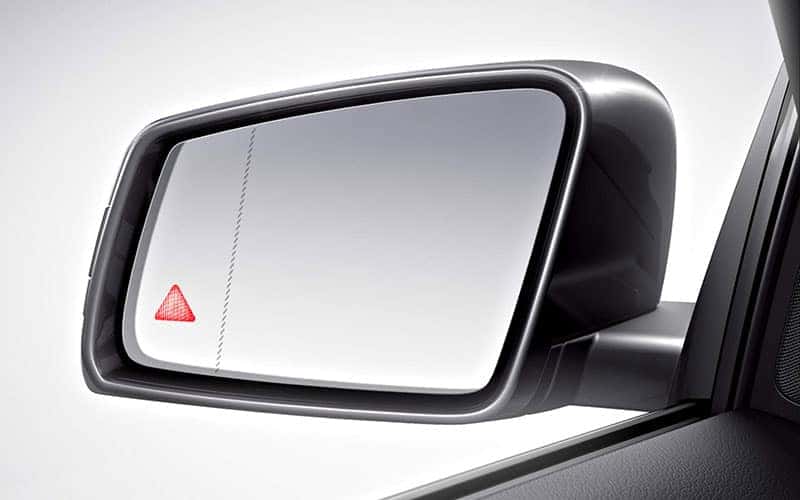 How Does Active Blind Spot Assist Work?
There's a good reason that the obstructed area of vision over your shoulder is known as the "blind spot". Both vehicles and other obstacles can hide in this area of your vision, creating the potential for a collision or other accident if unnoticed.
Active Blind Spot Assist uses a collection of sensors and cameras to constantly monitor an area of up to 10 feet behind and immediately adjacent to your vehicle. In the event that a vehicle is detected within the blind spot area, a red triangle warning indicator appears in the corresponding exterior side mirror. It's important to remember that Active Blind Spot Assist is active at speeds above 18 MPH.
Should you fail to notice this visual warning in your mirror and signal for a lane change, the warning light will begin to flash and an audible alert will sound. Finally, if you continue to attempt the lane change despite the warnings, Active Blind Spot Assist can apply corrective steering actions to keep you safely in your intended lane.
Active Blind Spot Assist is available on nearly all Mercedes-Benz models across the vehicle lineup. It's important to remember that while this system can provide a helping hand when you need it most, you should continue to check blind spots on your own instead of relying solely on this system for help.
Thanks to the widespread adoption of this groundbreaking feature, experts estimate that thousands of injuries and hundreds of deaths are prevented each year. In a recent study conducted by Consumer Reports, 60% of surveyed drivers reported that their blind spot monitoring system helped prevent a collision*. Additionally, a total of 82% of surveyed drivers answered that they were "very satisfied" with this safety feature of their vehicle*.