Take a Look at the Fascinating All-New GLC Coupe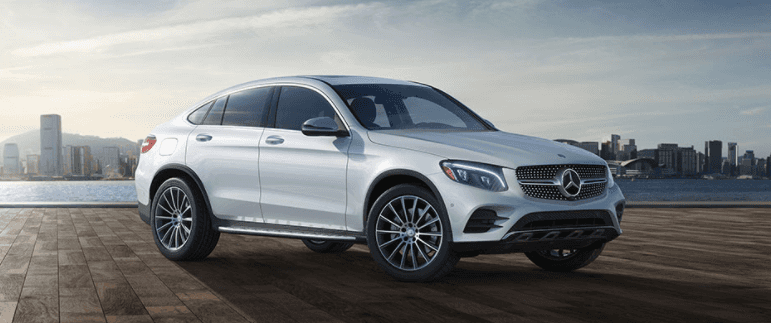 "Part SUV. Part sports car. All Mercedes-Benz." Mercedes-Benz has combined these two elements to assemble the immaculate vehicle that is the GLC Coupe.
The GLC Coupe was crafted and designed with the soul of of a coupe and the agility, strength, confidence and sleekness of an SUV. The all-wheel all-season 4MATIC® constantly sends torque to the wheels that need it. The efficient 4MATIC® permits light weight and instant response that adds to your confidence as a driver when venturing through slippery surfaces and winding dry roads. It is is equipped with a 241-hp turbo-4 engine eager to provide the efficient turbo performance and power you need. The available nine speed adjustments and five driving modes allow you to match the GLC Coupe's driving style to your very own. Not a huge fan of the preselected driving modes? Great news! You can create a mode of your own.
Enjoy state-of-the-art technology features right at your fingertips. Features like the in-car internet, WiFi and remote-starting from your smartphone help keep you connected to the GLC Coupe and to your world. Built-in driver assist functionalities make it easier to keep your eyes on the road and enjoy your drive. From the available surround view system to the active parking assist, the GLC Coupe has you covered! The GLC Coupe uses cameras, radar and more to keep an active, watchful eye on your surroundings. There are also proactive protection safety systems put in place that stay on guard whenever and wherever you drive. Drivers can rest assured that the GLC Coupe has their back.
"Intuitive controls and crisp displays make it all clear." A console-mounted controller and large, vivid screen provides the driver and passengers with a world of entertainment and customizable features for their enjoyment. As you can see, there are many great characteristics and features included in the GLC Coupe that help make it a one-of-a-kind vehicle. To learn more about the all-new GLC Coupe and to build your own, click here.