New 2016 Mercedes-Benz Lineup Debuts
Mercedes-Benz of Easton, your preferred Mercedes-Benz dealership in Columbus, Ohio, proudly introduces our exciting 2016 Mercedes-Benz lineup. Today, we're taking a look at some examples our new 2016 Mercedes-Benz vehicles with a review of the stunning new 2016 C-Class, E-Class, and S-Class luxury sports sedans.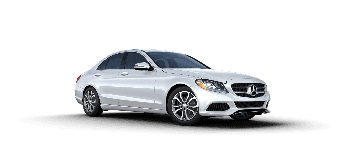 2016 Mercedes-Benz C300 Sedan
Supremely Capable And Stunningly Stylish
The new 2016 Mercedes-Benz C300 from Germain Mercedes-Benz of Easton distinguishes itself as a poised, confident, and supremely capable luxury automobile. Its bloodline is clearly evident in its beautiful exterior design. The C300's large, swept-back projector-beam headlights accented with a string of brilliant LED daytime running lamps artfully frame its signature grille that features a bold three-pointed star anchored by two slender horizontal beams. The overall look is one of understated athleticism and elegance. Unique fiber-optic LED accents on the expressive rear taillights provide a modern touch. Aluminum reduces weight without sacrificing structural rigidity. The C300's longer, lower wheelbase improves handling and ride comfort, while at the same time making the cabin even more spacious. Distinctive 17-inch 5-spoke wheels add a sporty flair.
A New Expression Of Luxury & Technology
Enter the cabin of the new 2016 Mercedes-Benz C300 and you instantly understand why Mercedes-Benz interiors are simply without peer. Attention to even the smallest detail, from the finest premium materials to the placement of every switch and control, is meticulously conceived. Cast your gaze along the sweeping console and enjoy the clean, modern lines with elegant aluminum trim. Choose from a variety of color and trim options to suit your individual taste. Take the wheel and find your perfect driving position, thanks to a 14-way, power driver's seat with memory. Dial in the comfort with a dual-zone climate control.
Mercedes-Benz engineers technology unlike any other automaker, which is why driving the C300 puts you in command of the future, executed today. Take the clever standard touchpad controller, for example. Intuitively designed, the controller combines the responsiveness of a touchpad with the tactile familiarity of a rotary knob, letting you control a variety of functions with your fingertips. You can swipe, pinch, and even use handwriting. The rotary knob controls the vehicle's many "infotainment" functions with a simple twist of the wrist.
Driven To Excel
The new C300 is a pure delight to drive. Under the hood, a responsive 241-hp 16-valve, 2.0-liter direct injection engine with multispark ignition delivers exceptional power and fuel economy. With 273 lb.-ft. of torque at your disposal, accelerating is effortless. A seven-speed automatic transmission with paddle shifters combines with an ECO Start/Stop system to improve fuel economy, achieving an EPA-estimated 25 mpg city/34 mpg highway. The advanced 4-wheel multilink suspension affords taut and precise handling.
At a starting MSRP of $38,950, all the superior luxury and performance of the 2016 C300 is surprisingly affordable.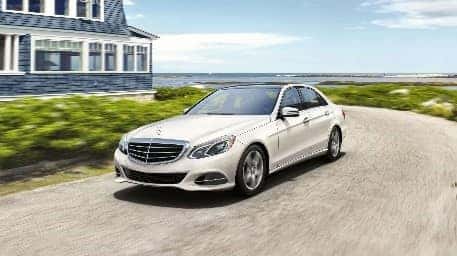 2016 Mercedes-Benz E350 Luxury Sports Sedan
Every bit a modern thoroughbred, the stunning 2016 Mercedes-Benz E350 from Germain Mercedes-Benz of Easton is a remarkable achievement of superb engineering, amazing performance, and high style.
Timeless & Contemporary Styling
The sweeping exterior of the new 2016 E350 is a fresh interpretation of the iconic heritage of generations of E-Series automobiles that have come before it. From its signature Three-Pointed Star hood ornament and large distinctive grille to its fluid roofline and dramatic oversized LED taillight, the new 2016 E350 evokes an image of timeless quality. The Sport Model delivers its own unique brand of athletic élan.
The Art Of Interior Design Redefined
The breathtaking interior of the new 2016 E350 is the nexus where art, science, and impeccable design intersect. It is a convergence of supreme quality appointments and unique designer touches that set the E350 apart. An abundance of only the finest materials, including genuine burl walnut and natural ash woods, incredibly supple leather seating surfaces, and brushed chrome accents achieve a new level of striking luxury that blends harmoniously to create a cabin of unparalleled luxury, refinement, and quiet sophistication. Multicolor ambient LED and fiber-optic lighting offers three ways to personalize your E350's interior.
Superior Comfort, Technology & Convenience
The E350 puts an array of forward-thinking entertainment, communication, and navigation technology in the palm of your hand. It starts with the remarkably convenient COMAND system that consists of a crystal-clear, high-definition color display and intuitive rotary controller on the center console. Seamlessly control a variety of functions, including hands-free Bluetooth® telephony and audio streaming, turn-by-turn navigation, many comfort features, and more. Enjoy sumptuous sound with the available Harman/Kardon LOGIC7 Dolby sound system.
Efficient Power
Get behind the comfortable three-spoke heated leather steering wheel, engage the keyless start/stop button, and enter a new dimension of handling and performance. Motivating the E350 is a splendid 3.5-liter, direct-injection V6 engine that delivers a pulse-quickening 302 horsepower. The engine's dicast-alloy block, rapid multi-spark ignition, widely variable valve timing, and high-pressure direct-injection fuel delivery system combine for lightning-quick acceleration. A seven-speed automatic transmission and ECO start/stop technology, achieve an EPA-estimated 20 mpg city/29 mpg highway. Exclusive AGILITY CONTROL® suspension improves handling feedback and tightens up body motion by automatically adjusting individual shock absorbers for a smooth, compliant, and self-assured ride.
Regarding safety, Mercedes-Benz engineers are overachievers, resulting in some of the safest vehicles on the road today. The E350's complement of advanced safety features is impressive. ATTENTION ASSIST®, for example, actively monitors up to 70 different driving characteristics, alerting you to a variety of potential hazards. It even determines if you have driven for too long, recommending a break to avoid drowsy driving. The standard Collision Prevention Assist Plus consists of a suite of advanced early warning radar technologies to help you avoid accidents.
The masterful 2016 Mercedes-Benz E350 luxury sedan takes the concept of "world class" to an entirely new dimension of refined driving pleasure.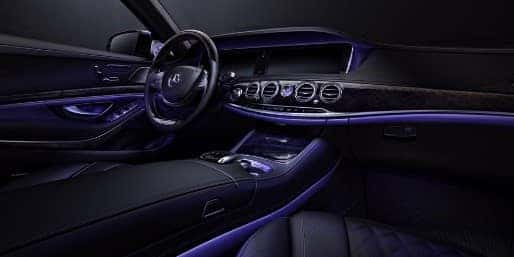 2016 Mercedes-Benz S550 Luxury Sports Sedan
The magnificent 2016 Mercedes-Benz S550 available at Germain Mercedes-Benz of Easton is the pinnacle of automotive engineering. Not only does the S550 offer a transcendent driving experience, but it also sets new benchmarks for luxury, craftsmanship, and engineering prowess that puts it in a world class all its own.
A New Benchmark Of Beautiful Styling
The S550's sensuous exterior styling orchestrates a symphony of beauty from any angle. Classic Mercedes design coupled with contemporary aerodynamics combine to create an exterior visage that is at once timeless and modern. Fluid lines, a wide stance, a long, sloping hood, gracefully arching roofline, and rear deck with oversized LED taillights etched into the rear quarter panels turn the S550 from a mere automobile to an expressive work of art.
Luxury At Its Finest
The spacious and quiet interior of the S550 spares no expense. This is the next evolution of thoughtful luxury. Every aspect of the S550's magnificently crafted interior evokes supreme quality. The finest materials are in abundance, from the highly polished genuine wood and brushed chrome accents to the most supple premium leather available. Every nuance of the S550's interior is nothing less than superlative. Nothing has been overlooked to create a driving environment this is simply second-to-none.
Turn the interior of your S550 into a brilliant expression of your every mood with available LED lighting that features more than 300 LED lights you can configure in seven distinctive hues. The interior is a tour de force of hand craftsmanship. Every stitch, every surface, every minute aspect creates an oasis of impeccable luxury.
Performance Beyond The Extraordinary
No less impressive is the S550's extraordinary 4.7-liter biturbo V8 engine. This astonishing power plant offers a remarkable level of stratospheric performance with 449 hp of unbridled excitement. Unique ECO Start/Stop, a silky smooth seven-speed automatic, and an array of cutting-edge features combine to achieve a new level of fuel-efficient performance. Step on the gas and accelerate to 60 mph in a mere 4.8 seconds.
The highly responsive AIRMATIC® semi-active suspension system makes driving the S550 a joy every time you get behind the wheel. It offers a new dimension of balance, comfort, and control thanks to air springs that automatically adjust to different driving conditions. Four-wheel level control adjusts to different passenger or cargo weight. It also lowers the ride height for improved handling and cornering.
A Showcase of Technology & Safety Features
Technology and safety reach new levels of amazing advancement in the S550. The S550 eschews the standard idea of fixed analog gauges and rewrites the rule book with dual 12.3-inch high-resolution screens stretching across the dash. These configurable screens display everything from instrumentation and navigation to entertainment and communication options. Illustrated menus and razor sharp clarity give you intuitive control of numerous features and functions. And because only the best will do, you can order your S550 with an exclusive Burmester® audiophile-quality sound system.
When it comes to safety, the 2016 S550 is beyond compare. Advanced safety features abound, including standard Collision Prevention Assist Plus. This remarkable suite of preventative safety features is designed to offer the ultimate in active accident avoidance management. Other features, such as Attention Assist that alerts you if you are getting sleepy behind the wheel and standard crosswind assist that compensates for strong crosswinds to maintain stability are just a few of the many cutting-edge safety advancements that make the S550 one of the safest vehicles on the road today.
The Uncompromising Choice Of Quality
The 2016 C300, 2016 E350, and 2016 S550 sports luxury sedans from your local Columbus Mercedes-Benz new and used car dealership, Mercedes-Benz of Easton, are just three of the many German-engineered Mercedes vehicles available for purchase that continue to set the world automotive standard. When only the very best will do, step up to the uncompromising luxury, performance, and impeccable quality of a new 2016 Mercedes-Benz today.
We invite you to stop by our new and used Mercedes-Benz luxury auto sales in Columbus, Ohio and take advantage of exceptional offers on our entire lineup of new Mercedes-Benz automobiles. With special financing, dealer discounts, and year-end model closeouts, Mercedes-Benz vehicles are more affordable than ever.
Save even more on our extensive inventory of Certified Pre-Owned vehicles that must meet exacting quality standards.
We are conveniently located at 4300 Morse Crossing, Columbus, OH 43219. To arrange for your personal VIP sales experience, please call 888-530-5742. For Service, please call 888-722-5428.
Source & Photos: