Get To Know 2 Exciting New Mercedes-Benz Models
Since the dawn of the automotive era, one name has reigned as the ultimate example of the automaker's art: Mercedes-Benz. From its very beginning as an automotive company to the present day and beyond, Mercedes-Benz continues to set the world standard for innovation, design, and the ultimate in engineering excellence.
Always looking toward tomorrow, Mercedes-Benz continues to innovate and inspire with new vehicles and concepts that embody the marque's promise of "The Best or Nothing."
At Mercedes-Benz of Easton, your preferred Mercedes-Benz new car dealership near Columbus, Ohio, we are both excited and privileged to offer a glimpse into two of the incredible new Mercedes-Benz luxury vehicles that will soon be making automotive headlines, as well as making a beeline to your driveway.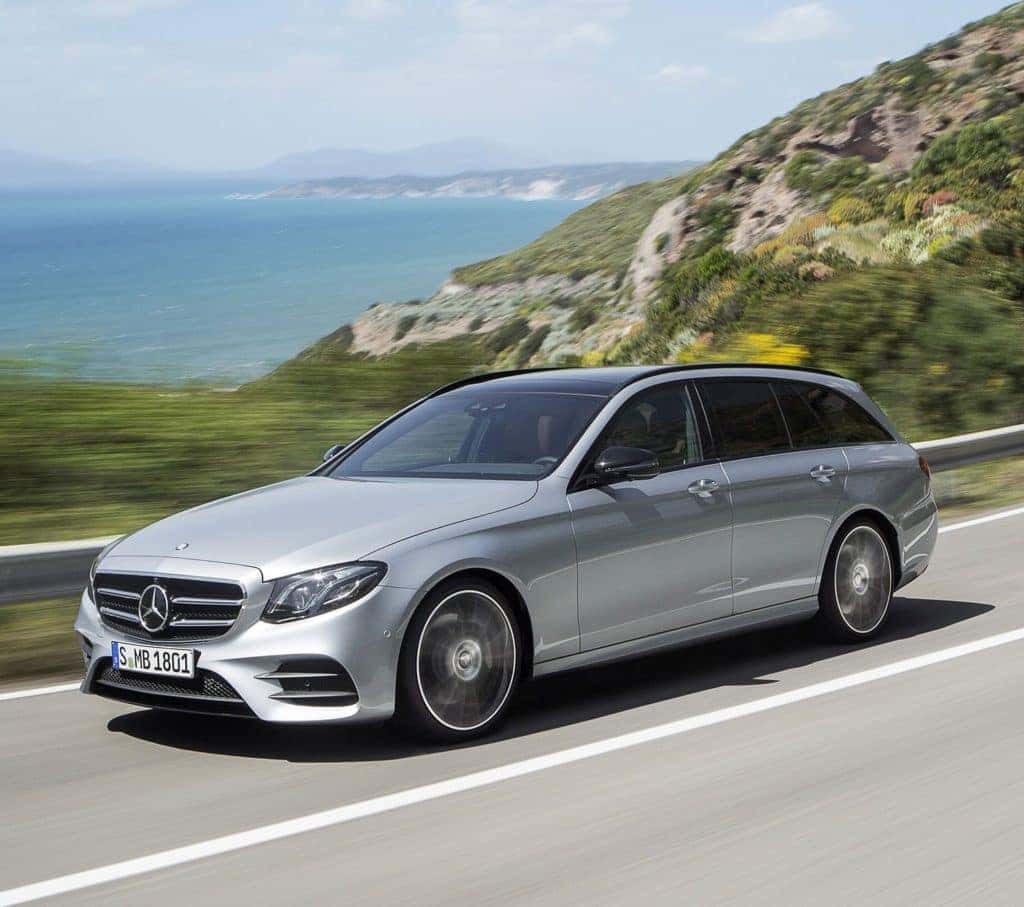 2017 Mercedes-Benz E-Class Wagon
Years ago the typical family station wagon was anything but refined and sophisticated. The world has indeed changed dramatically since then. No better evidence of the station wagon's evolution from pedestrian family hauler to a stunningly designed, remarkably innovative, and thoroughly modern iteration of the ultimate family conveyance is the amazing new 207 Mercedes-Benz E-Class Wagon.
The Most Intelligent Mercedes Wagon Yet
As a new member of the E-Class, representing some of the most technologically sophisticated vehicles on the road today, the 2017 Mercedes-Benz E-Class Wagon combines legendary Mercedes craftsmanship with extraordinary versatility and remarkable features that make it the most intelligent, and arguably the safest, luxury wagon ever conceived by Mercedes-Benz.
The reason is an array of active technologies that establish new world benchmarks for automotive safety. These include the groundbreaking PRE-SAFE® System that reacts to a potential collision and adjusts the head restraints, front seat belts, and even closes the windows and sunroof to help minimize injury. Active Brake Assist, Active Lane-Change Assist, and the semi-autonomous Drive Pilot are just some of the formidable weapons in the 2017 E-Class Wagon's safety arsenal.
Uncompromising Luxury. Unbelievable Versatility.
As befitting of Mercedes, the new E-Class Wagon is not only sumptuously appointed with the finest materials and craftsmanship, but it also seats up to 7 passengers in uncompromising luxury. The E-Class Wagon's svelte and sweeping coupe-like roofline nevertheless offers best-in-class headroom and legroom.
With a unique 40/20/40 split folding rear 3rd seat you can configure the E-Class Wagon's cavernous cargo and passenger space in a variety of ways. The EASY-PACK Tailgate make it a breeze to access all of the E-Class Wagon's vast inner space by automatically opening at your command. Moreover, thanks to Mercedes-Benz ingenuity, the E-Class Wagon is one of the quietest wagons available today.
Brilliant Performance. Agile Handling.
With the stunningly sporty appearance of an E-Class Sedan and the versatility of a wagon, the new 2017 E-Class Wagon rides and handles unlike any "wagon" you've ever driven. Motivated by a sensational 3.0-liter Biturbo V6 engine delivering 329 horsepower and 354 lb.-ft. of torque, the E-Class Wagon has plenty of thrust to rocket you ahead of the pack with ease. And 4MATIC® All-Wheel Drive combined with a sport-tuned suspension give the E-Class Wagon cat-like agility.
Expect the brilliant new 2017 E-Class Wagon to arrive in early 2017.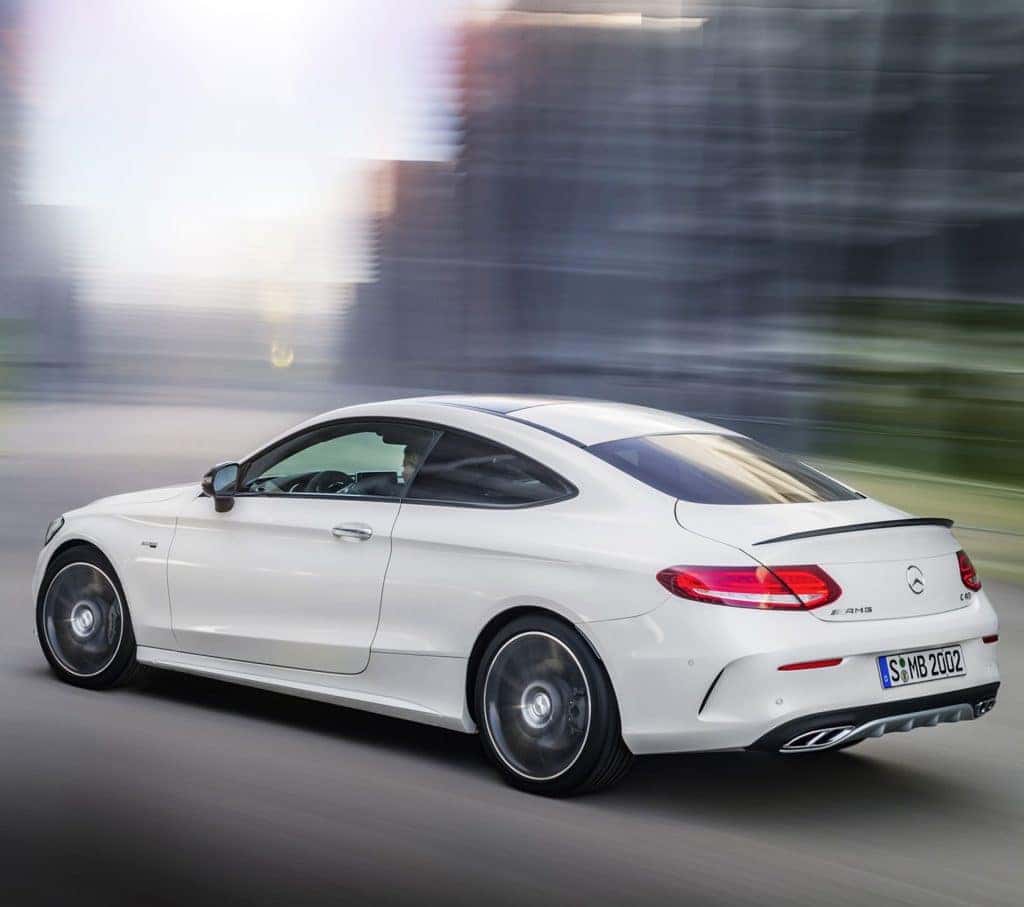 Whenever you see the letters "AMG" attached to the name of a Mercedes-Benz vehicle you know that you're in for one heck of a thrill ride. The wizards at AMG know just how to take something that's already incredibly good and make it infinitely better.
Formula One-Inspired Performance
Such is the case with the breathtaking, all-new 2017 Mercedes-AMG C43 Coupe. As the newest addition to the expanding lineup of new C-Class luxury vehicles, the exquisite new AMG C43 two-door infuses the C-Class with its own potent concoction of adrenaline-infused excitement born from the legendary AMG GT and nurtured by Mercedes-Benz's championship Formula One racing team.
The result of this marriage made in Affalterbach is an exhilarating driving experience that is quite simply must be experienced to be believed. With a top speed of 155 mph, the AMG-tuned 3.0-liter, 362-hp biturbo V-6 engine with exclusive NANOSLIDE® technology mated to a super-fast 9G-TRONIC 9-speed automatic transmission with Dynamic Select effortlessly launches you from 0 to 60 in a scant 4.6 seconds.
Precision Control
You can also precisely control the transmission by selecting from one of five different modes: Eco, Comfort, Sport, Sport Plus, and Individual. These work in concert with the sport-tuned AMG RIDE CONTROL suspension and the incomparable AMG Performance 4MATIC All-Wheel-Drive for extraordinarily agile and lightning-quick handling.
The AMG C43's race-bred heritage is evident throughout its magnificently crafted cabin. Unique checkered-flag design details, custom lateral-bolstered sport seats made from advanced MB-Tex/DINAMICA microfiber technology and distinctive red safety belts add an extra dash of performance-driven panache. Additionally, the AMG C43 gets its distinctive exterior AMG cladding, including distinctive air intakes, diamond mesh grille, and silver chrome trim.
The new AMG C43 Coupe will be arriving later this fall.
Your Future Mercedes-Benz Is Waiting
The all-new 2017 Mercedes-Benz E-Class Wagon and 2017 Mercedes-AMG C43 Coupe are but two tantalizing examples of the many exciting new 2017 Mercedes-Benz luxury vehicles for sale near Columbus, Ohio arriving at your premier Mercedes-Benz dealer near Columbus, Ohio, Mercedes-Benz of Easton.
If you ever wanted to own one of the world's most magnificent and technologically advanced luxury cars, our many money-saving Mercedes-Benz new car specials in Columbus can make your dream come true.
We can also save you thousands with our premium collection of superlative Certified Pre-owned Mercedes-Benz luxury cars for sale in Columbus, Ohio.
We invite you to visit our Easton Ohio Mercedes-Benz new car dealership at 4300 Morse Crossing, Columbus, OH 43219 and experience the future of Mercedes-Benz for yourself. Call us today at 888-530-5742 to schedule your personalized VIP test drive.
Sources:
https://www.mbusa.com/mercedes/future
https://www.mbusa.com/mercedes/benz/safety
Photos:
https://www.mbusa.com/mercedes/future/model/model-All_New_2017_AMG_C43_Coupe#module=future-gallery&submodule=future-gallery-0&gallery=UNIQUE-GALLERY-ID|0|0
https://www.mbusa.com/mercedes/future/model/model-The_2017_E_Wagon