What is Mercedes-Benz PRE-SAFE system?

While it's certainly hard to argue that preventing and avoiding a collision is essential to staying safe behind the wheel, sometimes you still can use a helping hand both during and following an accident. In the unfortunate event of a rollover or other severe imminent collision, Mercedes-Benz PRE-SAFE prepares your vehicle for impact in an effort to minimize harm to both you and your occupants. Mercedes-Benz of Easton has created this useful guide which explains exactly how this groundbreaking technology works to keep you safe.
Mercedes-Benz PRE-SAFE Video
How Does Mercedes-Benz PRE-SAFE® Work?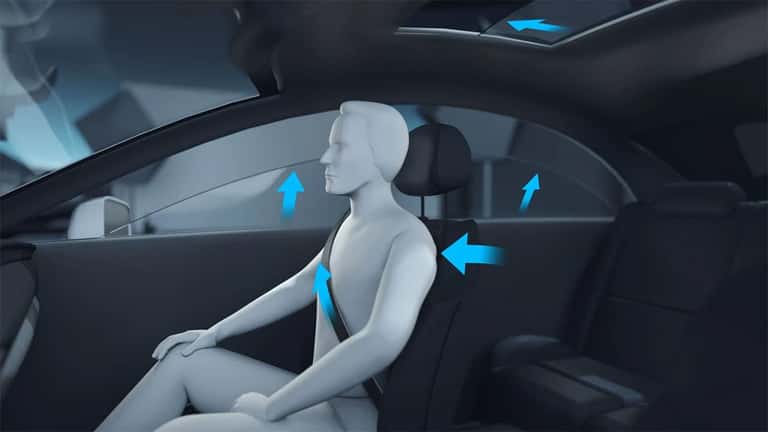 PRE-SAFE relies on a network of sensors in order to detect irregularities such as swerving or skidding, both of which are typically associated with the beginning of a collision or rollover. After detecting the threat of an accident, this system immediately begins to brace you for a potential impact. Protective measures taken include closing the windows and sunroof to keep debris out of the cabin, tightening the front seatbelts, and adjusting the front head restraints.
Working in harmony, these automatic reactions help reduce and prevent further injuries from the accident. Certain Mercedes-Benz vehicles are equipped with an exclusive PRE-SAFE Sound feature that emits a harmless noise that's designed to trigger a reflex inside your ear to protect it from the pressures of a loud crash. If a rear-end collision is about to occur, the system can strengthen the braking force of your vehicle to prevent it from sliding forward and impacting another vehicle or obstacle.
Safety – Second to None

Painstakingly engineered to be the safest vehicles on the road today, Mercedes-Benz remains an industry leader in developing life-saving technologies and innovations to keep you and your loved ones out of harm's way. Mercedes-Benz of Easton invites you to come and experience for yourself all that the Mercedes-Benz model lineup has to offer.