K40 Radar & Laser Protection for Mercedes-Benz

Searching for a discreet, non-invasive radar & laser protection system for your Mercedes-Benz? Mercedes-Benz of Easton is a certified installer of K40 Electronics Radar & Laser Detectors. These sophisticated systems feature full component integration that delivers maximum performance while upholding the integrity of your vehicle. Featuring industry-leading threat detection and signal strength, K40 Electronics systems provide you with complete wireless control right at your fingertips.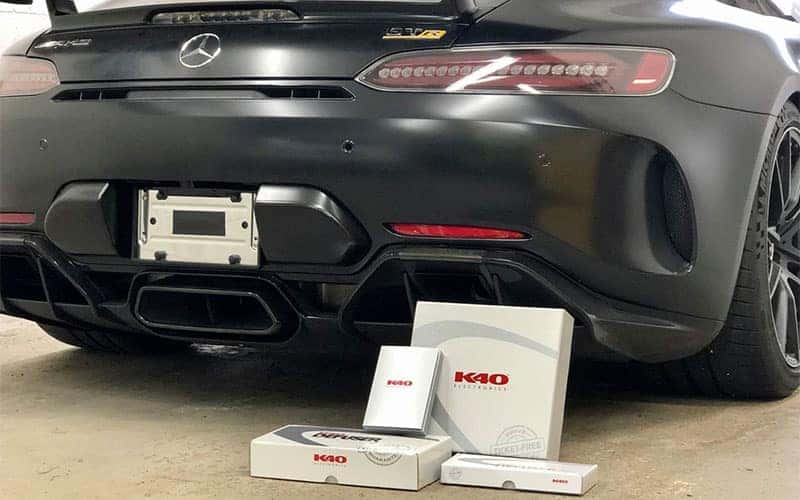 About K40 Electronics Platinum Series Radar & Laser Protection Systems
Engineered with you and your vehicle in mind, K40 Electronics radar and laser solutions are custom-installed to seamlessly integrate with your vehicle. Both clear and concise, LED display alerts notify you of potential threats and targets with maximum directional range and sensitivity for the situation. Other benefits of K40 Electronics systems include:
Discreet
OEM-like custom installation by factory-certified technicians
Extended Range
All-new LNA technology boosts performance by up to 40%
Expandable
Future-ready and equipped for emerging technologies
GPS Intelligence
Reduces false alerts and offers customizable notifications
Focus on Real Threats
Choose between K-Band Filter, K and Ka-Band Segments, Auto-Filter, Mark to Mute, and Quiet Ride modes to choose exactly what type of alert and when you want to hear an alert
Placement of LEDs shown for example purposes, placement can be customized to client preference.
Our team of experts at Mercedes-Benz of Easton is standing by to help you customize a K40 Electronics Radar & Laser solution for your vehicle today. We're confident that we can help you select the right system for your personal needs and driving habits. Contact us today!