Mercedes-Benz Window Tinting & Paint Protection in Columbus, OH

It's only natural that you've grown attached to your Mercedes-Benz vehicle. When it comes to protecting your investment, Mercedes-Benz of Easton is proud to offer a complete selection of ESOTERIC Auto Preservation Products and Services which help safeguard your vehicle from the rigors of daily driving. Whether you drive 100 miles or 10,000 miles a month in your Mercedes-Benz, your vehicle is routinely exposed to harmful environmental elements which can take a toll on its appearance. If you're searching for a solution to keeping your Mercedes-Benz looking like new, our selection of ESOTERIC Auto Preservation Products and Services will protect the showroom shine of your vehicle for years to come.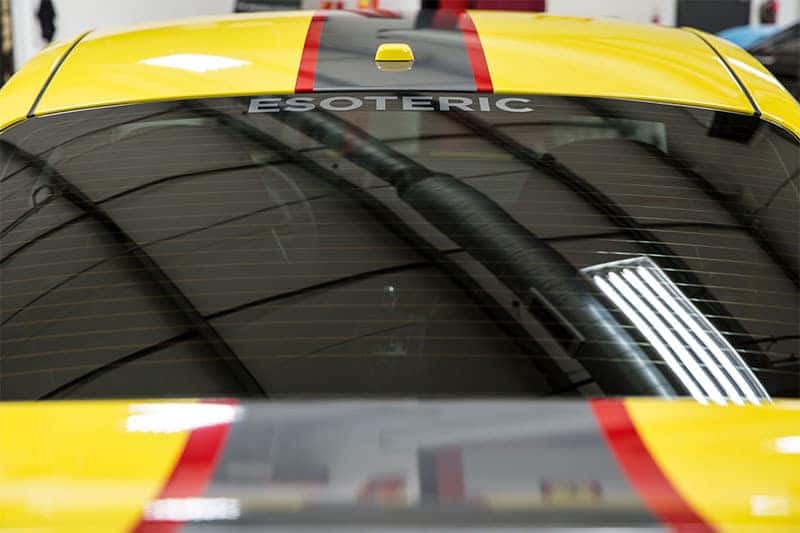 Window Tint
Window tinting serves several purposes. For one, it provides you with the opportunity to enhance the appearance of your Mercedes-Benz with varying degrees of darkness. Secondly, and most importantly, it reduces up to 99% of damaging UV rays and offers a high level of heat rejection. Regardless of how dark of a tint you choose to apply, the level of UV and heat rejection remains the same.
Window tinting installation services provided by ESOTERIC offer a high-quality installation with industry-leading film technology. To complete the look, and to provide better UV, heat, and glare rejection, we highly recommend applying window tint to your windshield! Once you experience it, you'll never want to drive a car without it.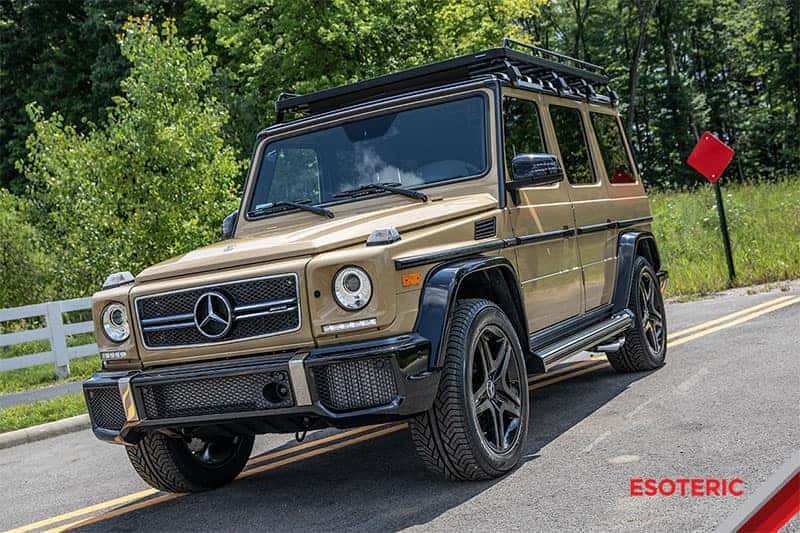 Paint Protection Film
The paint on your Mercedes-Benz is constantly bombarded with rocks, bird bombs, and other road debris that over time leaves unsightly rock chips and etchings in your finish. Not only does this take away from the beautiful looks of your vehicle, but it can also reduce resale value as well.
By wrapping parts (or all) of your Mercedes-Benz in today's high-performance paint protection film (also known as PPF or Clear Bra), you significantly reduce the risk of your car's paint being damaged by small road debris. The high gloss finish offered in modern PPF, when combined with the artisan installation techniques of ESOTERIC, provides a nearly invisible barrier between the delicate automotive paint and all the elements that are trying to damage it.
Options are available for standard glossy finishes, AND the Mercedes-Benz Magno (matte) series of automotive finishes!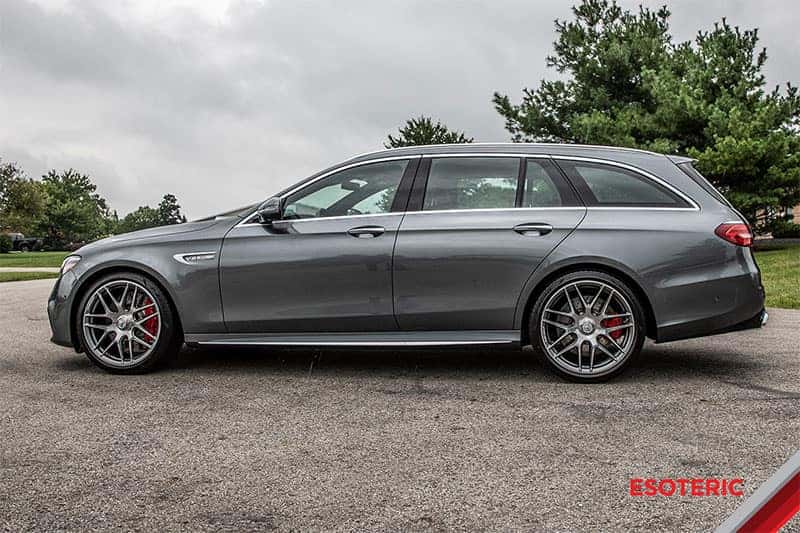 Ceramic Coatings
While PPF provides the ultimate in protection from rock chips caused by flying debris, Ceramic Coatings are the most effective and most durable solutions for protecting the paint on your Mercedes-Benz from the harsh elements. Since ceramic coatings are semi-permanent and can't be simply washed off like a traditional wax, they will offer years of protection from rain, snow, salt, pollen, and other airborne elements that attack your car's finish on a daily basis.
Not only will ceramic coatings by ESOTERIC provide a protective barrier to your Mercedes-Benz, they also add additional gloss and depth to the finish, and they make subsequent cleaning of the vehicle much quicker since dirt and other contaminants won't stick to the surface as easily.
Ceramic coating options are available for painted surfaces (both traditional gloss paints, and the Mercedes-Benz Magno (matte) series of automotive finishes), wheels, plastic exterior trim, and windshields.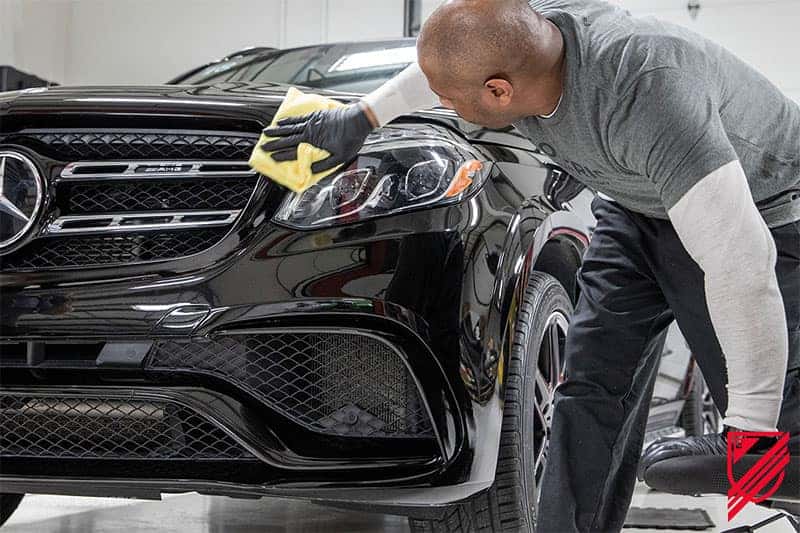 Paint Enhancement / Machine Polishing
Also referred to as "paint correction" or "color correction", this painstaking process is performed to extract a level of clarity and gloss to the finish that simply can't be done on a production line. The paint on your new Mercedes-Benz looks amazing from the factory, however for those interested in having the absolute-best looking car around, the Paint Enhancement service is for you.
ESOTERIC's world-renowned Paint Enhancement / Machine Polishing services are second to none and will add a level of looks to your Mercedes-Benz that you never knew was even possible. Professional detailers from all over the world visit the ESOTERIC HQ here in Columbus (The ESOTERIC Elite Detailer Academy) to learn the most advanced techniques in the business, and those industry-standard techniques can be used to perfect your Mercedes-Benz.
Only available on gloss finishes, the Paint Enhancement services are a popular option to be done prior to applying PPF and Ceramic Coatings.